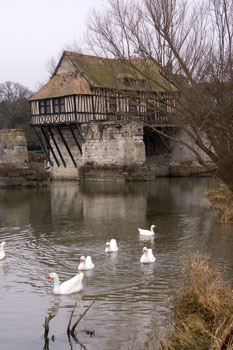 Vernon is a village in the Eure, on the Seine, between Rouen and Paris, at the gateway to Normandy.
But make no mistake, it is a jewel not to be missed; you will see the magnificent collegiate church, built between the 11th and 16th centuries, and composed of different architectural styles: from the Romanesque style of the choir and the transept to the radiant, flamboyant and late Gothic styles of the nave and the facades. But as you stroll through the streets framed by old half-timbered houses dating from the 12th to 17th centuries, don't miss the remains of the medieval bridge or the astonishing old mill, the Archive Tower and the Château des Tourelles...
A whole concentration of medieval remains to embellish a pleasant stroll along the Seine.