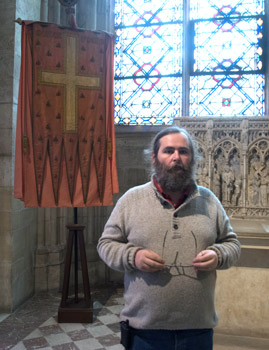 My name is Alain Plouviez and I am a qualified Guide Lecturer and medievalist.
I propose to take you back to the Middle Ages for a visit in the History of men and monuments, promising never to flood you with names and dates but to make you travel in time in a friendly and lively way.
Around playful animations, you will also be able to approach certain aspects of the life of a soldier, a lord or a peasant.
My visits are aimed at individuals as well as groups, but also at institutions, Tourist Offices, museums and remarkable historical sites which wish to reinforce their teams or to propose a specific animation. Passionate about heritage and history, my first aim is to make you approach the places and their history from an attractive and even playful angle.
As a successful guidance, it also goes through the safety of all, I am trained in First Aid and holder of the French Certificate of Competence of Civil Security Citizen (PSC1).

Guiding is my passion, but it is also a profession. This is why I am a member of the following institutions: